Who uses the Acuscope and Myopulse family of Instruments?
Many healthcare professionals – human and equine – have trusted and used the Acuscope®, Myopulse® and Myopulse® Facial more than any other instrument for almost 30 years. The reason is simple…it works! 
Athletes like Michael Jordan, Jack Nicklaus, Joe Montana, Wayne Gretzky, Wendel Clarke, Joan Benoit and Terry Bradshaw have all had injuries and chronic pain issues. Each of them has been introduced to the Acuscope and Myopulse along with many other celebrities like Pavarotti, Steven Segal, Lee Majors, Cloris Leachman and Sharon Farret just to name a few.
Veteran golfer Jack Nicklaus, Olympic champions Joan Benoit and Mary Decker, football stars Terry Bradshaw and Joe Montana, hockey great Wayne Gretzky are among the many athletes who have had dramatic results in the resolution of their injuries when they were treated with the Acuscope and Myopulse.
Pain…Pain Go away!
Jack Nicklaus was so impressed by the treatments, says Nicklaus "I've had tendonitis problems in both my wrists and elbows…I got tremendous results. It stopped hurting and what I really like about the instruments is that you can't over treat the injury". He further claims that the Myopulse and Acuscope in the hands of his therapist, helped prolong his golfing career, assisting the healing process with a variety of other injuries and surgeries.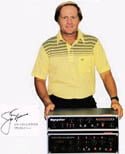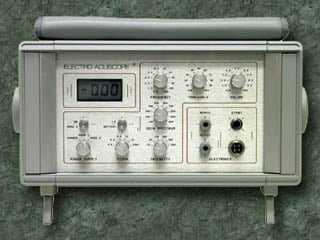 Former NFL Football star Terry Bradshaw, used the Acuscope and Myopulse after he severely injured his elbow in one of his games. He says, "After four treatments, I was out of pain and back in the lineup…it's a miracle machine!"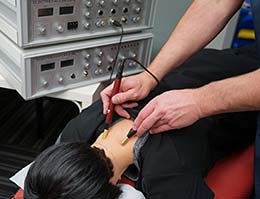 Additionally, the systems have proven to be a superior form of physical therapy and rehabilitation for a wide variety of sport and recreational injuries. Several sports franchises including Toronto Maple Leafs, Philadelphia Flyers, and Chicago White Sox use the Acuscope and Myopulse in their training rooms. Joan Benoit won her Olympic marathon trials only 17 days after arthroscopic knee surgery with a week's worth of treatments with the Electro Acuscope and Myopulse impedance controlled microcurrent systems.
Caution…possible side effect…you may look younger after a Myopulse Facial treatment.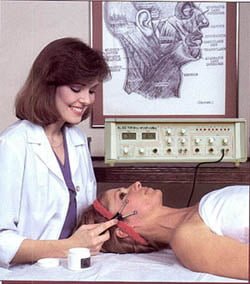 Cloris Leachman, one of many Hollywood stars, has also had very successful results with Acuscope/Myopulse treatments. "I had chronic neck pain for a very long time. Now it's over, thanks to this wonderful instrument" Cloris has also used the Myopulse Facial instrument for non-surgical facial rejuvenation and to look and feel younger. She says that the facial treatments made her look and feel ten to fifteen years younger…and that's certainly what her photos reveal. Many people have received Myopulse facial treatments and had such remarkable results that they did not require laser or plastic surgery. The Myopulse Facial dramatically reduces the signs of aging.
Integrative Energy Medicine therapy for pain, trauma & anti-aging

 
" I have had these remarkable instruments in my clinic since 1989. They are my primary modality of choice as the computerized microcurrent provides an energy that better matches the physiological requirements of distressed or altered tissue. The variety of point specific probes, placement pads and specialty treatment probes allow us to access minute yet specific loci of scarred or inflamed tissue. The Acuscope allows the practitioner to treat a problem orthopedically, holistically or to normalize the cranial sacral rhythm. The energy the Acuscope provides is a very respectful way to treat injured tissue gently…it's like whispering to the nervous system." Catherine MacLeod, BSc PT Part A & B Manual Therapy CAFCI Acupuncture
The Electro Acuscope® and Myopulse® are not being used just by celebrities to control pain and reverse aging. Medical doctors and physical therapists from reputable clinics such as Loma Linda, Cedar Sinai, Maul Memorial Hospital along with thousands of other healthcare professionals, are treating patients with all types of problems including: chronic/acute pain, arthritis, tendonitis, sprains, fractures, foot issues, headaches, chronic fatigue syndrome, PMS, fibromyalgia, multiple sclerosis, Bell's palsy, cancer pain, seizure disorder, diabetic neuropathy, and any type of post-surgical scar treatments. Why? Because these professionals recognize that the Acuscope and Myopulse simply help the body heal itself!
It does wonders in accelerating the healing of scar tissue, and is widely used to speed up recovery after plastic surgery as well. Women who have had problems after breast augmentation surgery, seek treatment with the Electro Acuscope and Myopulse because it is so effective in accelerating the healing process and dramatically reducing scar tissue!
Check out our Healthcare Links page to see what therapists are treating and the healthcare professionals who rely on and trust the Acuscope® and Myopulse® pain and stress management systems.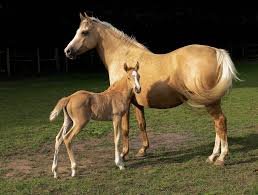 Attention Equine therapists-ask about our free dual calibration option for human/equine/small animal therapy!
Send me a quote and further information on your instruments Call us at 416 565-0007 or Contact Biohealth for immediate assistance.