Myopulse 75L- for sports injuries and treatment of muscle, soft tissue, ligaments & bone


The Electro Myopulse® 75L is the latest release of the most advanced technology in pain control as well as treatment of acute sports injuries and post-surgery.
The Myopulse 75L is the first instrument in its class to have auto frequency conditioning and when paired with the Acuscope 80L, provides a pain management combination that has proven to reduce rehabilitation time by an average of 65% in industrial medical clinical trials. Its proprietary sinusoidal output waveform is designed to treat connective tissue associated primarily with muscles, soft tissue, ligaments and bone, sports injuries, scar tissue and non-surgical facial rejuvenation – see Myopulse 75LN Facial.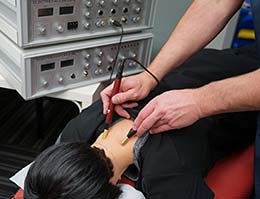 "The Myopulse 75L is not only an exceptional instrument for anti-aging, it also clears out pain, congestion and inflammation very easily from connective tissues, IT bands, tendons etc., usually with no pain. This typically could be the most painful part of a massage treatment. The Myopulse does a much more thorough job than I could do by hand and reduces pain immediately." Mike Robinson RMT
As with all of Biomedical Design Instruments' equipment, the instrument is an I/O impedance controlled microcurrent device designed for precise treatment delivery required to control even the most difficult pain, trauma and injury cases, including wide variety of muscle and connective tissue problems.
Notable features departing from traditional controls are tissue controlled automated frequency scanning on Channel 1 and expanded current and frequency on Channel 2. This unique combination allows the practitioner to gain full treatment control from patient screening and assessment to full resolution of therapy. Both modes, 1 and 2, can be used simultaneously on the patient during a treatment.
If you want to look and feel younger, reduce stress and anxiety, then the Myopulse® 75LN Facial is the instrument is for you! Check out this remarkable anti-aging/pain management device under Myopulse Facial
Standard Accessories: Point specific trigger probe, indifferent point specific probe, 4 brass ball tips 1/4″ & 1/2″, 1 pair 1″x1″ pads with wires, hand-held probe, interface bar/foot plate, coil cord, connecting cable, charging module, conductive electrolyte and manual.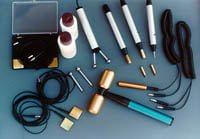 Optional Accessories: Y probe with 4 ball tips, transcranial ear clips, head band with wires, odonton probe, auricular probe, grand roller, double brass roller, grand ball probe, preamp box with 2 large hand/foot plates with wires and reflexology/lymph probes (not all probes shown see accessories).
Visit our Client Testimonial page to see why therapists from all disciplines trust and rely on the Electro Acuscope® and Myopulse® for pain management and anti-aging!
Attention equine therapists, ask about our dual calibration option for human/equine/small animal therapy
For additional information or a no obligation quote, hit the Request a Quote button at the top. For immediate assistance call us at 416 565-0007 or Contact Biohealth.