Pulsed Electro Magnetic Field Therapy – Tesla
Low frequency pulsating Electro Magnetic Fields are designed to help the body regenerate its cells and help speed up the normal healing process. This is a safe (Health Canada/CSA/CE approved) painless, drugless modality designed to work on soft tissue as well as bone damage conditions. MFT allows pain suffering clients to lead more comfortable lives. If you want to see if Pulsed Electromagnetic Field Therapy is right for you, try our 3 month rental offered by Centurion systems. The 3 month rental costs comes off the purchase price should you decide to purchase a system.
Centurion therapy products have been in the human and veterinary marketplace since 1979. The Company was established in Alberta, Canada and rapidly expanded to Eastern Canada and the United States. Presently, Centurion is well recognized worldwide, having offices and dealers in over 22 countries, and still expanding.
All Centurion equipment is designed to the highest available standards; Centurion is ISO 13485:2003 Registered Company. Full quality control and complete product testing are standard components of the manufacturing process, to ensure our equipment is ready to fill today's market requirements.
High quality products, professional customer service and back-up service, as well as, the ability for our customers to evaluate our equipment initially on a 3 Month Rental, have made Centurion one of the top leaders in the industry of Pulsating Magnetic Field Therapy, in both the human and veterinary field.
 Electro Magnetic Field Therapy Explained
Invisible pulsed magnetic field lines permeates all cells in the body simultaneously, at the molecular level thereby reaching parts of the body that cannot be influenced efficiently with other methods. Pulsed Electro Magnetic Field Therapy (PEMFT) permeates all cells, enhances ion exchange, normalizes circulation and increases the oxygen utilization of the cell.
Centurion Pulsating Magnetic Fields (PMF) is a relatively new form of physical therapy. PMF is a very efficient and simple therapy method by influencing the body either generally or locally with a magnetic field packed in impulse bundles. Magnetic fields cannot be absorbed, so it is difficult to produce field-free spaces when magnetic fields strike a material. We often differentiate between paramagnetic substances, in which a bundling or a concentration of magnetic field lines occurs, the diamagnetic substances, in which a decentralization of the field lines result.
Human and animal organisms consist of a large number of cells which function electrically. If there is no electrical potential left in the cell, it is no longer viable. These cells have a basic (or rest) potential that is necessary for normal cellular metabolism. As result pulsating magnetic fields have been found to be effective in the reduction of swelling, stimulating tissue repair and rehabilitation.
Monthly rental information is listed for each instrument model (Canadian dollars). For US pricing, additional technical information or to speak with a product specialist, call us at 416 565-0007 for immediate assistance or Contact Biohealth.
Centurion human therapy systems are manufactured in Canada to the highest standards and now come with a 5 year warranty that covers the following human products:
CENTURION 9PH, CENTURION GPC, CENTURION 9A and TESLATRON – 3 year warranty EZY SYSTEM( CONTROLLER & COIL)
Electro Magnetic Field Therapy – Home use and clinical models
Centurion 9PC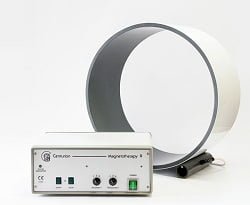 The Centurion 9PC system uses our M9 generator and comes with our portable coil. It offers the user the choice of three (3) different frequencies and three (3) different intensity settings. The frequency settings of the Centurion M9 generator range from 2 – 30Hz. This system is great for reducing pain and inflammation and increasing circulation. Ideal for home use. Request information
Centurion EZY System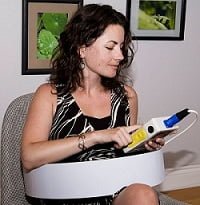 The keyword is easy, from the new lightweight design to the hand-held generator, the new Centurion EZY System is extremely intuitive. Weighing only 2 kg. (6 lb.) the EZY coil can be maneuvered into any position quickly and efficiently and stored out of the way when not in use. Request information
NEW

Centurion EZY Blanket 
The new EZY Blanket has 12 Tesla coils which duplicates the original 1896 patent. The results have been outstanding and similar to the EZY System coil. Blanket comes in beige and blue.
Request information
Centurion GPC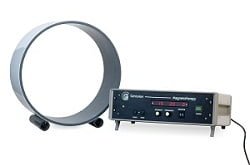 The Centurion GPC system uses our "G" generator and comes with our portable coil. The GPC System is a full line generator and offers the user the choice of ten (10) different frequencies and nine (9) different intensity settings. The frequency settings of the Centurion G generator range from 2 – 60Hz. Request information
Centurion Minipulse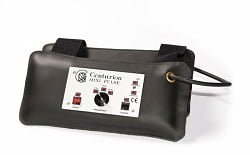 The Centurion Minipulse is lightweight and portable, two Velcro straps hold it in place during treatment, making it one of our most versatile products. Like our leg wraps, it can be opened to treat different areas of the body. Request information
Teslatron/GBPC – Bed/coil system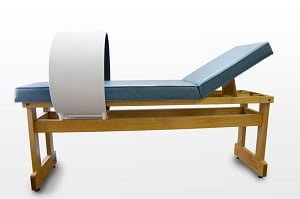 The GBPC is ideal for hospitals and doctor's offices, it comes with our G generator, coil and an adjustable bed. The coil slides easily along the length of the bed allowing for all parts of the body to be treated. Request information
Magnetic Field Therapy – Veterinary Models 
Centurion 4PH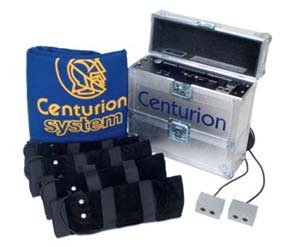 The Centurion 4PH comes with four leg wraps, a body blanket, two Splitter Boxes and a carry case. A powered unit, which can be used to treat any part of the horse. The blanket is constructed of heavy cotton twill for withstanding lots of wear and tear. Our most popular model because of its versatility. Leg wraps are used on legs or placed in an open position into the pockets of the blanket. Request information
Centurion 9PH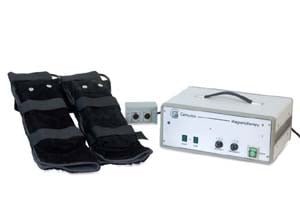 The Centurion 9PH is a powered machine consists of a small generator, two leg wraps, a splitter box and a carry case. The leg wraps can be used to treat any part of the horse, or placed in a saddlebag manner over the back to deal with swelling, stimulation and circulation. Request information
Centurion 9PC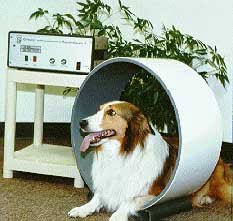 The Centurion 9PC includes a Mini Generator and a Portable Coil for treating dogs and other small animals. The coil may be used upright or laid on the side for the animal to be surrounded by the coil. Three settings on the frequency and intensity are available to deal with Pain and Inflammation, Stimulation and Increase Circulation. See our human section for further information on this equipment below. Request information
Centurion Hoof Pad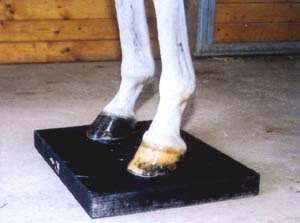 The Hoof Pad is one of our latest additions to the Centurion family equipment. This accessory has come to fulfill many of the horsemen' requirements in a therapy. The Hoof Pad is designed to operate with either the 4PH or 9PH generators. As every horseman know that problems often start from the feet, the Centurion Hoof Pad has been widely used on indications such as: Abscess, concussion problems, bruised feet, swelling, etc. Request information
Centurion Minipulse
The Centurion Minipulse is a leader in portable pulsed electo magnetic field therapy. Designed to fit the leg and especially the hock, it will pulse a magnetic field deep into the leg, velcro straps keep it in place. Excellent for use on both soft tissue and bone damage problems. Dependable recharge system.3 Settings to help bring an area through the healing process. Request information
Centurion Therapulse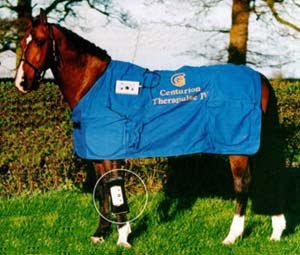 The Centurion Therapulse is a battery operated unit which contains 10 coils and can be used to treat all of the body at the same time. The blanket is constructed of a heavy cotton twill for standing up to lots of wear and tear. A very popular model because of its ease of use and no wires into the stalls. A power supply nearby is not necessary.3 Settings to help bring an area through the healing process: Low – 2 Hz. – Pain & Inflammation, Medium – 15 Hz. – Stimulation and High – 30 Hz. – Increase Circulation. Request information
Centurion Neck Piece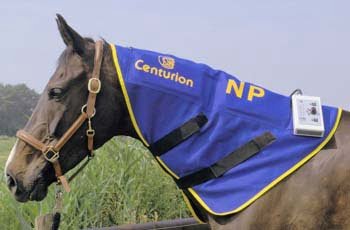 4 coils designed to work simultaneously. Comes with durable protective case. Battery and Controller included. Request information
For US pricing, additional technical information or to speak with a product specialist, call us at 416 565-0007 for immediate assistance or email Biohealth