We have a variety of instrument models to meet your needs with the best prices guaranteed!

Electro-Acuscope 80L
Clinical therapy system with auto frequency scanning. For therapeutic treatment of neurological/neuromuscular indications, sleep and stress disorders. Used alone or in conjunction with Myopulse 75L.

Electro Acuscope 85P
Designed to fit the needs of Sports/Athletic Therapy and Occupational Medicine. Probes and instrument contained in a Haliburton suitcase for rugged and convenient portability. Convenient for the trainer on the go.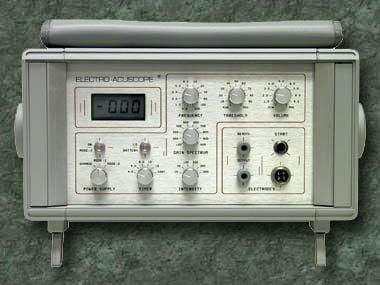 Electro-Acuscope 70C
A powerful portable unit, ideal for the small practice and home use. Effectively treats acute/chronic pain, sleep and stress issues. Ideal clinical system when paired with the  Myopulse Facial.

Electro-Myopulse 75LN - Anti-Aging - Energy Medicine Facial 
Exceptional therapeutic "energy medicine" modality for anti-aging, scar tissue, cellulite, pain management and deep relaxation. Trusted and used by health spas, cosmetic surgeons, dermatologists, estheticians and privately.

Electro-Myopulse 75L
Clinical therapy system with auto frequency scanning for sports injuries and treatment of muscle, soft tissue, ligaments and bone. Used alone or in conjunction with the Acuscope 80L.

Neuroscope 230B
Small, but powerful portable home care unit with "pink sound" and transcranial treatments for sleep issues, anxiety, deep relaxation and pain management including headaches. Ideal for the traveler to resolve "jet lag" or fatigue.
Tennant Biomodulator® PLUS & PRO (NEW)
The Tennant Biomodulator® PLUS & PRO are truly the next generation of microcurrent technology. Precision practice & homecare medical instruments indicated in the use for symptomatic relief and management of chronic, intractable pain, dental issues and adjunctive treatment in the management of post-surgical and post-traumatic pain.

Pulsed Electro-Magnetic Field Therapy for human, small animal and equine pain management.
Centurion's Pulsed Electro- Magnetic Field Therapy for human and equine therapy and rehabilitation. A painless, non invasive and drugless alternative for home and the barn!

 Transpitators - Centurion for Equine obstructive respiratory conditions
Centurion's Transpirator is a world leader in equine respiratory therapy. Improve your horses performance with Transpirator therapy.
Send me a quote and further information on your instruments.
Click here for our complete product portfolio.
 Accepted
Visit our Client Testimonial page to see why therapists from all disciplines trust and rely on the Acuscope and Myopulse for pain management and anti-aging!
If you require additional technical information and would like to discuss these technologies further with a product specialist, please call us at 416 565-0007 for immediate assistance or email BioHealth at biohealth3@gmail.com
Distributor enquiries are invited.