KOR Innovations Hi/Lo Therapy Tables
Biohealth is proud to represent a complete line of Hi/Lo therapy and veterinary exam tables, manufactured in Canada by KOR Innovations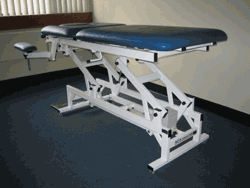 All of KOR Innovations' tables are manufactured with the highest quality materials and workmanship including: welded tubular steel, heavy duty foam, durable vinyl coverings and solid state electric actuators/foot switch that raise and lower these tables quietly and safely. All tables manufactured by KOR Innovations come with an unprecedented five year warranty.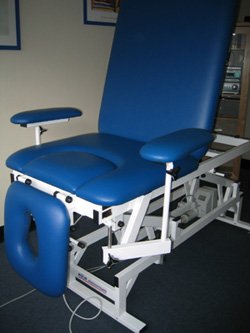 Whether you are looking for a basic Hi/Lo massage/osteopathic table, a naturopathic table/chair or a "top of the line" five piece Euro Lift, we can custom design a table to fit your precise requirements. Additional options including; surround switch, dual foot switch, retractable castors and extra heavy duty foam are available on all therapy tables. Design your custom table and call us for a quote!
Harvey Lift Exam and Grooming table with optional integrated weigh scale available
The "Harvey Lift" Hi/Lo is the newest innovation to our exam table line. An excellent addition to any veterinary clinic, the Harvey Lift can raise or lower large, injured or post surgical animals (up to 250 pounds) from 8" to 40" simply with the touch of a peddle. Manufactured with a removable stainless steel top (25"x 52.5") on a solid tubular steel base. Optional weigh scale can be integrated into top. When the table is raised or lowered it is virtually silent which is less likely to frighten an animal.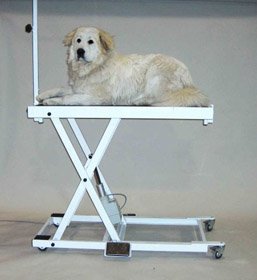 With the addition of optional castors, the Harvey Lift can be used as a surgical gurney. Veterinarians, opthamologists, animal rehab therapists, groomers and kennels could certainly use the Harvey Lift to adjust their animal clients to any convenient level. The days of lifting large animals on to your examination table are finally over. Give your back a break and order a Harvey Lift today! Their are 2 Harvey Lifts in service at the Ontario Veterinary College, Small Animal Clinic in the anesthesia / induction room. Additional veterinary references available upon request.
KOR Innovations' line of therapy tables include -
#EL2005ND - 5 Piece Naturopathic table/chair, priced from $2,595 CDN. ( 2 photos table & chair)
#EL1001 - Euro Lift 1000, priced from $1,695 CDN.
#EL2001 - Euro Lift 2000, priced from $2,030 CDN.
#ES2Trac - Traction tables, priced from $1,550 CDN.
#HL2010 - Harvey Lift, priced from $1,950 CDN (photos above). With optional integrated weigh scale, $2,950
For further information on KOR products or a custom design table for your practice, please Contact Biohealth or call us at 416 565-0007 for immediate assistance.